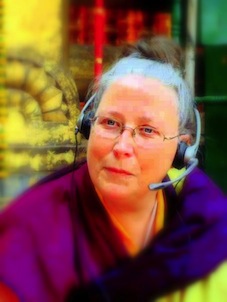 All of Rinpoche's teachings are recorded and are available for you to review on our website or own your own copy — on mp3, CD, DVD, and mp4. We've crafted a special program where you can view many of these teachings by browsing our Liberate the Mind, Awaken the Heart, and Benefit the World pages.
Anyone can create a guest account and explore a wide range of materials in the Resources section. There are written transcripts, audio and video recordings, beginner mediation practices and more!
Rinpoche's students who have created an account can also request access to a special set of empowerment specific resources. If you haven't yet created an account, simply register and complete the request form in the Meditations section. Upon verification that membership level will be added to your account.
Many of Rinpoche' s 90 minute and half day events are broadcast live on conference call or video stream.
Rinpoche has given hundreds of teachings on a wide range of subjects. Recordings can be shipped to you in CD and DVD formats or can be downloaded immediately in mp3 and mp4 formats. Feel free to explore in the Recorded Programs area.
Social Media
Domo Geshe Rinpoche actively shares teachings and facilitates discussion through various social media outlets. Rinpoche posts daily on Facebook and frequently updates a blog page and twitter account. In addition, many teachings can be viewed on YouTube or listened to as a podcast on iTunes.
Video clips and full length teachings can be found on the White Conch YouTube channel. Video clips are periodically uploaded and are a great resource for exploring specific topics.
Rinpoche hosts a monthly audio podcast on iTunes, rotating ten teachings at a time. Podcast subscribers receive all the teachings from beginning from the subscription date.
White Conch Regional Libraries
The library at Lotus Lake Buddhist Center houses a collection of teachings and references for people to access onsite. In addition, each regional White Conch community maintains a smaller library of teachings for listening or viewing. Contact the Regional Coordinator for more information.