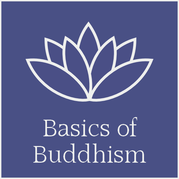 Basics of Buddhism
The teachings of the sage Buddha Shakyamuni, the founder of Buddhism, help us understand how the world works and can benefit people of all faiths.  Domo Geshe Rinpoche teaches the joyful path to a happier way of life.
This page offers starting point to access a treasure of resources to explore some of the foundations of Buddhist practice and  beginning meditation. Use the links to visit to additional topics.
The End of Suffering: The Four Noble Truths
Rinpoche offers a fresh look at the Buddha's first teaching – the Four Noble Truths – and what it means in the modern world.
Four Noble Truths
Suffering (unhappiness) exists
Suffering comes from causes.
Suffering can end
The step by step path to end suffering.
Audio – April 21, 2009:  Four Noble Truths
Karma
Good Karma, bad karma. What is karma?
Audio – October 1, 2008: What is karma?
The Root of Suffering: Ignorance, Grasping, Hatred
The root of suffering is the "three poisons"

ignorance or confusion; attraction or grasping; aversion or hatred

Grasping (2010 short video excerpt 1:34 min) What is this grasping that causes us unhappiness?
See more teachings on what is mind and how to tame the grasping mind here.
How do I Find Peace?
In this teaching, Domo Geshe Rinpoche talks about the dynamics needed for peace of mind.
Audio: March 7, 2006 Developing Peace of mind
.
What is Enlightenment?
Liberation from what? Samsara and Nirvana. We have had billions of lifetimes; we have been a pauper, a prince, king, begger, farmer, everything. Rinpoche says "Aren't you tired of this yet? This is not your true home; it is time to move on to your next way of being."
Is the journey worth taking? Join Domo Geshe Rinpoche for an exciting exploration.
March 29, 2008 What is Enlightenment Part 1 (1:16)
What is Enlightenment Part 2: Three Stages of Training (1:20)
Register for a user account to access even more materials including guided meditations and more teachings. Use the link in the upper right corner of the tool bar to sign up for a free account.
If interested in learning more – contact info@white-conch.org.