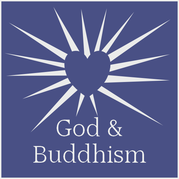 A Great Being (Mahasattva) holds and cares for this world in his heart mind. This world was created  as pure land – no one was ever meant to suffer. Some people call this great being "God".
—Domo Geshe Rinpoche
 Examining Our Understanding of What is God?
 Rinpoche ask us to think carefully about "what is God?" We need to discover the  perceptions alive in us regarding the nature of God and creation to discover what we really think rather than an intellectually held belief. Take time to contemplate this question.
Who and What is God?
A discussion at a Unity Church with Rinpoche.
Audio – June 21, 2007: Who and what is God?
Exploring Buddhist-Christian Commonalities
Since the 20th century, interest has grown and more discussions have taken place regarding the parallels between Christian and Buddhist teachings, such as the importance of cultivating loving-kindness. Continuing her emphasis on interfaith understanding, Rinpoche  speaks on the commonalities between these traditions from a Buddhist point of view.
The discussion is on Heaven, Hell, and Sermon on the Mount.
Audio -April 3, 2014: Exploring Buddhist-Christian Commonalities
Additional teachings  on commonalities in Christianity and Buddhism on the Interfaith Dialog page and available for purchase in the store in special commentary section of recorded programs.
 For more information on spirituality and  The Eternal Religion that is a the basis of all religions in all world systems, see  Recorded Program WC-20070607  The Eternal Religion.
If interested in learning more – contact info@white-conch.org