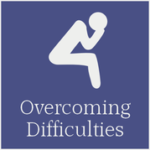 We expend a great deal of our energy in negative thinking that can harm our self and others.  When we liberate the mind from this negativity we are happier and healthier.
Please explore the videos below to learn how to free yourself from worry, anger, negative thinking, and guilt.
Overcoming Worry
Break the worry cycle! Take control of your life through an understanding of how your actions affect your success today and in the future.
video 11-21-2006
Overcoming Anger
Breaking mental habits such as anger can be extremely difficult.  Anger destroys more than your mood and that of others—it has deep effects on your well-being and spirituality. What is the antidote? Learn methods for freeing yourself of anger and other obstacles, and how to turn that energy into fuel for accomplishing goals.
video 10/28/2006
Releasing Guilt
Carrying unhealthy guilt will prevent us from living our lives with love and kindness toward ourselves and others. Rinpoche describes the positive and negative aspects of guilt and gives a wonderful visualization to help us move toward forgiveness of self for the benefit of all. You will experience a definite change.
Stop  Negative Thinking
Learn how to navigate through and lessen negative thoughts and where to find the antidotes.
Audio April 5, 2006
If interested in learning more – contact info@white-conch.org