Venerable Domo Geshe Rinpoche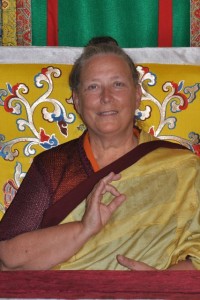 Domo Geshe Rinpoche is a reincarnate Lama of the Geluk tradition of Tibetan Buddhism and Spiritual Director of White Conch Dharma Center. The Domo Geshe Rinpoche lineage includes Je Pabongka Rinpoche, Kyabje Trijang Rinpoche and the great Geshe Jampa Chombe. As a reincarnate, Rinpoche has accomplished extensive training and retreats in the traditional manner. Rinpoche's current incarnation has been teaching in the United States for a number of years, held numerous retreats and given other spiritual training from the Geluk and tantric lineage.
The current Western incarnation of Domo Geshe Rinpoche arrived through rare and powerful tantric methods in order to transmit the authentic Dharma to students in the Western cultural context. This incarnation is considered unusual in that she has arisen in the form of an adult, a Westerner, and female.
Much of the information regarding the previous incarnations of Domo Geshe Rinpoche was lost in the invasion of Tibet in 1959. Efforts have been made by many individuals to piece together information from various sources in order to preserve the history of the previous incarnations. Much of it was compiled by Dr Ursula Bernis from about 1988-1994.
The effort to preserve the history of the Domo Geshe Rinpoche incarnations continues with the archiving of photographs and events. Many miracles and wonders associated with the Domo Geshe Rinpoche lineage have occured since arising in this incarnation.
Rinpoche is able to bring the Tantric and Mahayana traditions into sharp focus with a rich array of techniques. Teaching methods are selected according to the needs of the students, and all serious practitioners are given equal opportunities according to their abilities and needs. This extends to the monastery, which houses both male and female monastics in separate quarters. Monastic teachings are disseminated to ordained male and female practitioners equally, and individual guidance is provided to each on an ongoing basis.
The rapid development of inexperienced Buddhist seekers into strong practitioners is a testament to the abilities of Domo Geshe Rinpoche's ninth incarnation. May Rinpoche live a very long time, may the teachings remain pure, and may her work be instantly and joyfully accomplished.
You can see some of Rinpoche's teachings online in iTunes, or visit Rinpoche's blog, Facebook page or follow Rinpoche on Twitter . Use the social media links in the bottom right corner of every page to connect anytime.
A Female Incarnation
We feel that the emergence of a female incarnation of an ancient male lineage reincarnational line is a strong message by Wisdom regarding the value of women as spiritual guides in a modern world. Rinpoche has been recognized by a respected Tibetan Rinpoche a number of years ago and affirmed to be the tulku incarnation of the 8th Domo Geshe Rinpoche. See the Long-Life-prayer he wrote for her.