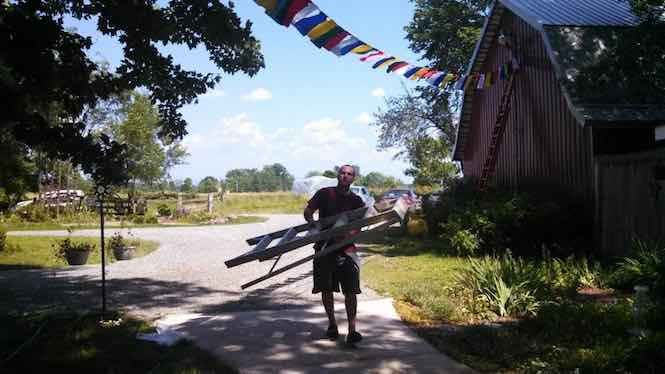 A Summer of Service and Study
With spring bounding back into our lives, Lotus Lake is now accepting internship applications. Volunteering is a unique opportunity for personal development. You will join a resident community of monastic ordained in gardening, landscaping, and event preparations.
Volunteers are afforded:
Three delicious, garden fresh daily meals
Comfortable housing with tenting options available for those who prefer the outdoors
Daily group meditation practice with our ordained community
Full participation in group retreats while you are interning
Please fill out and submit our application form to be considered: Spring/Summer Intern Application
---
Dewa Nyima, one of our summer interns from 2015 and an author for the "Steady Daily Practice" blog page wrote a wonderful piece detailing her experiences tending the many gardens at Lotus Lake.
Serving The Guru
One of the delights of last year (2015), was as an intern, spending two of the summer months working and living at Lotus Lake Buddhist Center with our teacher Domo Geshe Rinpoche.
Living with Rinpoche is an amazing gift. It is clear immediately that there is much to be done to prepare for Retreats and plant and care for the landscaping and gardens at Lotus Lake, around the Temple, and the Hermitage. Rinpoche seemed to be on the go, almost non-stop, and not one to be sitting around and waiting to be served. When there was some help or project that was needed to be done, it was easy to want to take a part of the workload and be of service.
As I worked outside, I would hear Rinpoche mowing the lawns and she would call for me to unload the clippings from the grass catcher. I loved to gather the clippings to mulch the plants that would not get burned by the fresh grass, but would keep the weeds from returning so soon. Also knowing that the worms would come to take it into the earth to break up the hard clay and add nitrogen, potassium and phosphorus to the soil.
I might have been turning compost or spreading it; weeding in one of the many flower, herb, or garden beds; laying mulch, fertilizing or planting, and I would hear Rinpoche call my name. It is such a sweet sound to be called by the Guru. It was not always easy to let go of whatever it was that I had set my mind to accomplish, but I would stop and say, "Yes, Rinpoche!", then move to do whatever was asked.
There are always opportunities to help out, even if it is only a weekend here and there throughout the year. Many of us have learned how we can be of service to our guru where we live. There are numerous ways to serve our Guru and the Dharma.
Reading in "Liberation in the Palm of Your Hand", beginning on page 217, one learns about "the root of the path: devotion to a spiritual guide". Here you will find all the many reasons why we should rely upon our guru and the benefits of service.
"…the victorious ones in the ten directions emanate themselves as gurus for our sakes- rather like a modern committee appointing a spokesman. When we properly devote ourselves to the guru, the buddhas know it and are pleased."
I felt quite blessed to be able to live at Lotus Lake and serve our Guru. Don't be afraid to share your talents and time. It benefits all sentient beings!
By Dewa Nyima 
---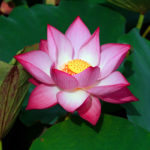 Dewa Nyima is a contributing writer on the "Steady Daily Practice" blog page.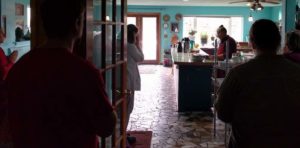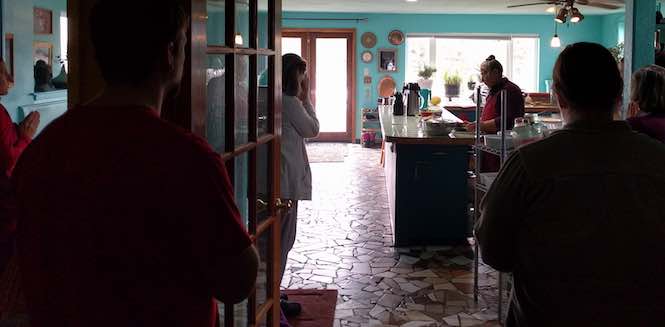 Grab your toast, slap on some butter, and take a seat at the ten foot long, mosaic dining table. For breakfast this morning, Rinpoche is treating us to a preview of her upcoming book Sensing Shades of Reality. We've got a full house of people on… Read More »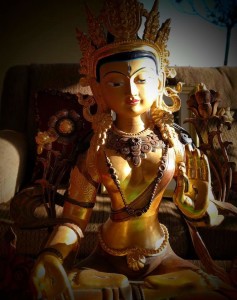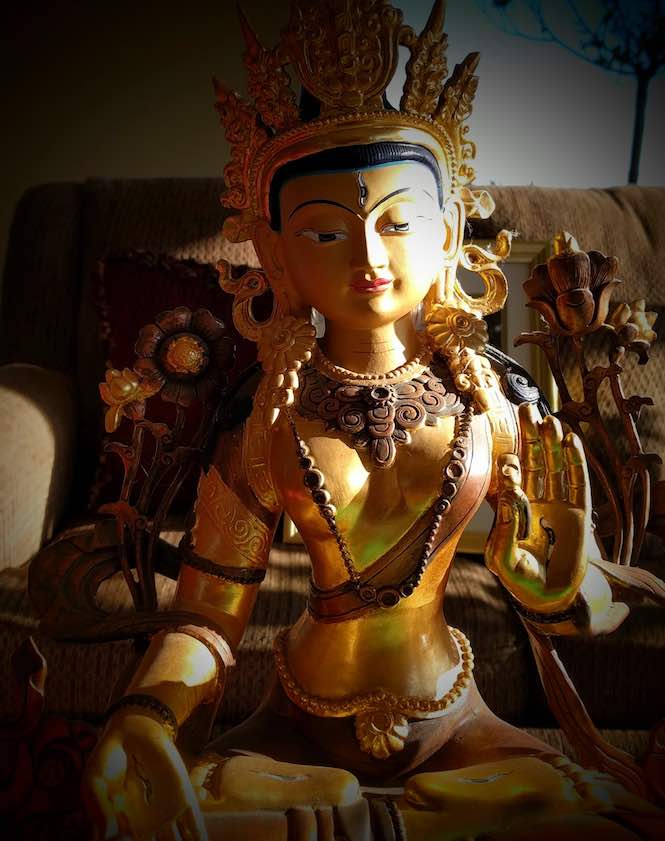 "Your meditation area and the objects that you place there are reflections of your mental efforts toward creating a beautiful space for you to do your meditation … when you look at the pictures and the statues, then you are remembering something inside. It is… Read More »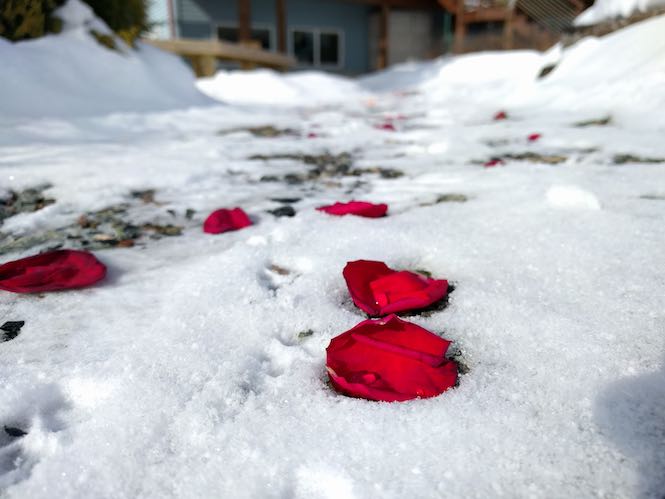 It's 33 degrees and the snow is melting. The pine trees are again standing tall after the heavy, white blanket has slipped through their wispy, verdant needles. An overcast sky seems just out of arms reach and somewhere higher up the sun is desiring an… Read More »