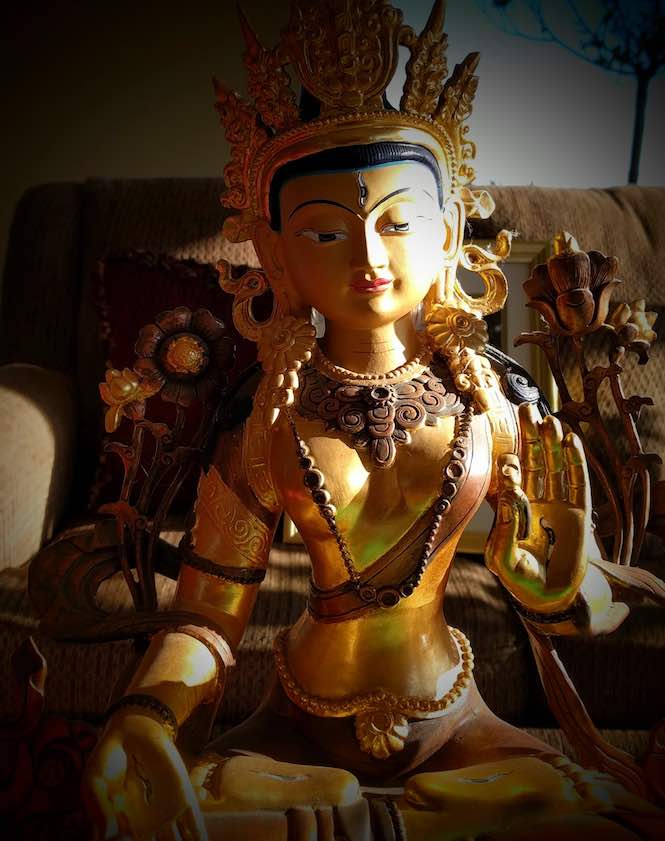 Connections
"Your meditation area and the objects that you place there are reflections of your mental efforts toward creating a beautiful space for you to do your meditation … when you look at the pictures and the statues, then you are remembering something inside. It is your mental capacity to understand that the living presence of the representations of those meditation area beings is something that is alive inside you."

-Domo Geshe Rinpoche from Creating Your Altar and Making Offerings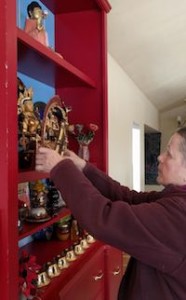 What is connection? If I hold your hand, is that connection? If we share a look, is that connection? If I pick a flower and am moved by it's beauty, is that connection?
This past week Rinpoche and the Lotus Lake residents installed a beautiful new altar, offered by Joyful Path, in the great room at Norbu House.
As the residents took turns placing images and offerings, the entire room was imbued with an atmosphere of deep connection. Rinpoche's presence during the activities served to heighten the sense of remembering "something that is alive inside". What a blessing it is to be reminded of our deeper connections each time we face an altar or an image.
---
An Offering of Light
Light is a traditional altar offering. In that spirit of auspiciousness, Milwaukee area resident George Stube is "lighting up the halls" at Lotus Lake! George has graciously donated over 50 LED bulbs for the retreat center. Each bulb has a guaranteed life span of 20-plus years and projected energy savings of up to $200 per bulb over the course of it's life. This thoughtful contribution will help us further our efforts to reduce our energy footprint and continue to become more responsible stewards of this planet. Thanks George!
---
Spring Comes Early
So much for resisting the anticipation of spring! Rinpoche received the first packet of seeds for the 2016 gardening season in the mail this week. Those who are planning on attending summer retreat this year can look forward to Red Russian Kale, Purple Cauliflower, Caribbean Red Habaneros (!!), and Tall Utah Celery.
It is this last item that has sparked an early spring here at Lotus Lake. The instructions on the pack of celery seeds clearly states ( I double checked ): start the seeds 3-4 months prior to transplanting. This, in turn, led to the instructions (also clearly stated) for Ngawang Zopa to clean out the greenhouse and finish constructing the solar hot water collectors … any DIY individuals who might be interested in volunteering for a little project are encouraged to stop by!
---