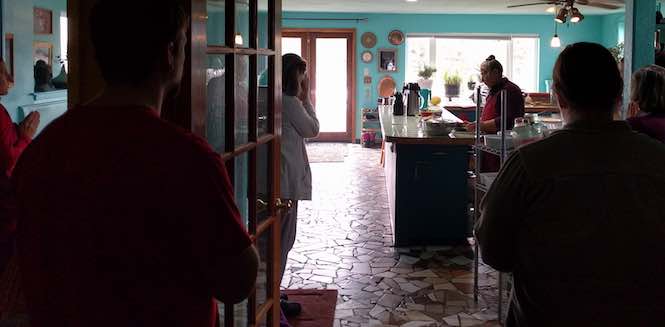 A Breakfast Essay
Grab your toast, slap on some butter, and take a seat at the ten foot long, mosaic dining table. For breakfast this morning, Rinpoche is treating us to a preview of her upcoming book Sensing Shades of Reality. We've got a full house of people on personal retreat at Lotus Lake this week and as Rinpoche opens her laptop to begin sharing some writings, the breakfast line dissipates and a polite game of musical chairs ensues.
"Buddhism has remained fresh for 2600 years and is probably the very best anti-bullying program ever invented. It still is fresh because from the ancient times up to the present, people are continuing to suffer in very similar ways. However, because the pace of the world is faster now, we have even more exposure to negative conditioning and will therefore need more robust, resilient and well-protected personal standards simply to endure daily life"

– Domo Geshe Rinpoche from an Essay titled Compassion and Racism in her upcoming book Sensing Shades of Reality
Rinpoche reads for a good fifteen minutes before finishing, letting the pause linger for a few moments as the group attempts to process what was conveyed. Rinpoche then invites our opinions and as we formulate question after question, wanting more of the nourishing teachings, she finally says, "You'll just have to read the book to find out!"
For the past two years, Rinpoche has used her month-long sabbatical to craft and hone entries for the journal-style book. Filled with featured essays and daily entries for contemplation, Sensing Shades of Reality will allow readers to actively engage with the Dharma. Rinpoche's sabbatical has ended and the lucky group assembled for private retreats is bearing witness to the fruits of her recent efforts.
---
The News From Lotus Lake
The retreat center was bustling this past week … well … quietly bustling! Norbu House was at max capacity with meditators engaging in personal retreats. Not only did everyone have the great fortune to hear Rinpoche's latest work on the upcoming book, but they were also able to gather for Rinpoche's Question and Answer Skype session with a group in the pacific northwest. The topics for the session spanned a wide range from integrating spiritual practice across multiple religions to being open to guidance.
The ability to bridge the geographical gap through a medium such as Skype has enabled Rinpoche to connect with individuals who might not have the opportunity to meet face to face. We will be announcing further exciting online endeavors in the coming weeks so look out for the news!