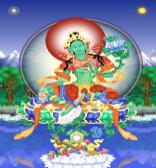 Sat. 20. May   11am – 5pm  Hamburg
Day Intensive and Blessing
GREEN TARA – COMPASSION AS A TOOL FOR TRANSFORMATION
Green Tara, Buddha of Compassion can be a powerful inspiration and teacher of Compassion in Action. In this seminar Rinpoche will explain how we can use Tara's teachings as a basis for inner transformation and subsequently integrate her qualities effectively into the world and our lives. We will attune to Green Tara with the help of meditation, mantra chanting and discussion. Rinpoche will accompany this process and bestow the blessing of Buddha Tara.
Suggested donation 50 – 60 Euro
Qi Gong Raum
Rothestraße 62, Hinterhof 2. Stock, 22765 Hamburg: Altona-Ottensen
Not available on conference call.