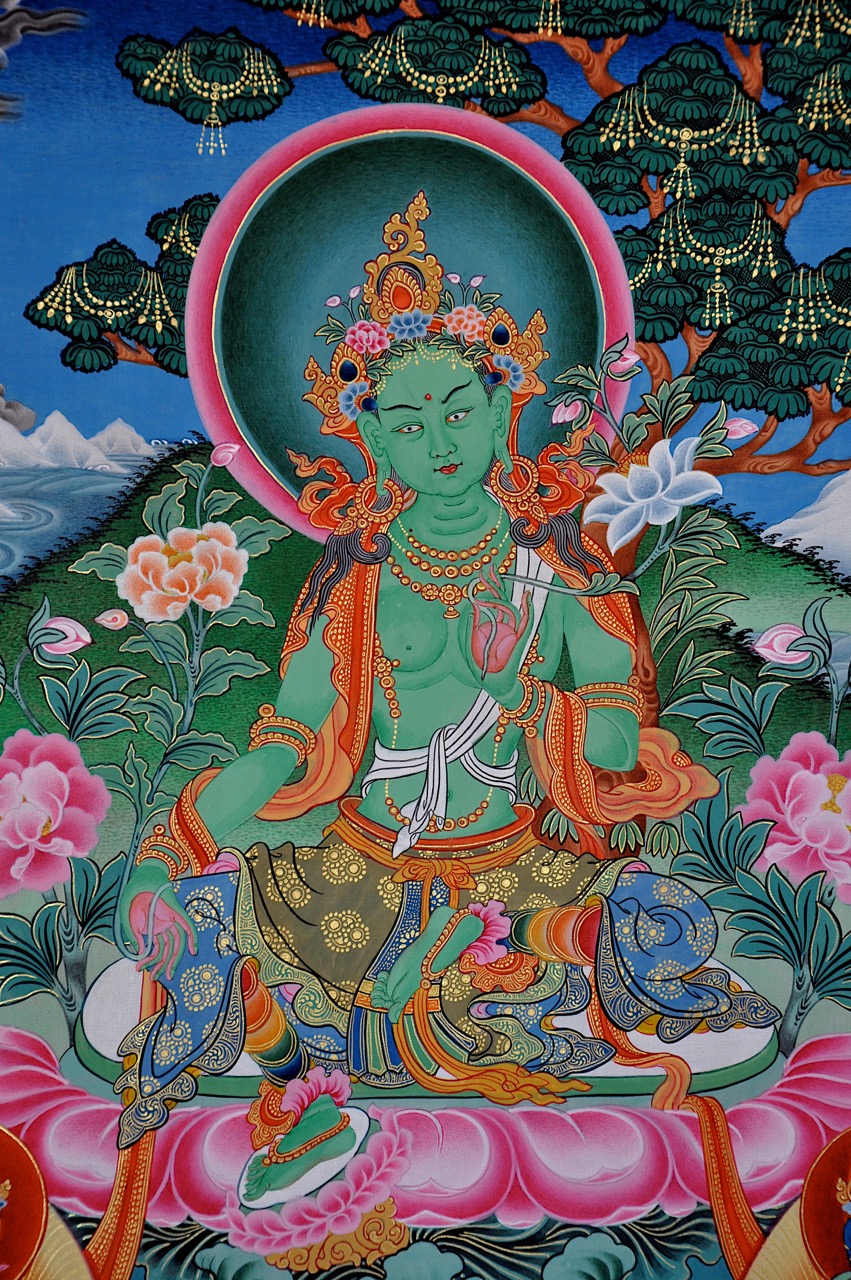 Formal bestowal of Green Tara empowerment (Buddha of Compassionate Activity) 
 Among the many aspects of Green Tara, as Mother, she offers feelings of safety, acceptance and love. Green Tara heals issues of loneliness, and disconnectedness that might arise from a lack of close family ties, dealing with an unskillful mother or suffering from a mother who has passed away.  We can become naturally more gentle, kind and capable, while relating to others and become a better partner, parent, co-worker or friend.  This session includes a full moon ceremony with permission to study and perform a Lama Chopa tsok .
Going on Retreat at Lotus Lake Buddhist Center
Daily dharma teachings are held in the spacious dharma hall but there are often informal spontaneous sharings by Rinpoche or senior students over breakfast or lunch. Walk the Kora path around the beautiful lotus pond and take time to quiet your mind and meditate under the watchful care of the retreat master.
Retreat allows you to leave behind daily concerns and focus on personal inner healing and spiritual development. Join with like-minded individuals who are committed to becoming capable of benefiting living beings.
 Accommodations
Beautiful Doonkar Retreat House offers double room accommodations.  Delicious vegetarian meals are included in the cost.
Check In is 4:30–6 pm on the first day of each retreat session.
Orientation is at 6 pm. The first teaching will start at 7 pm.
On the final day of each retreat session, departure will be by 4 pm.
If you will be traveling by plane, please contact Khandro for further information regarding shuttles and pickups. We may be able to coordinate timing with other participants.
 Fees:
Session 1 Feeling Safe with Mother Tara:  $665.                   
Early Registration discount if paid in full by Dec. 1. 
Thank you to the many generous donors that have made Doonkar House possible. While costs have increased, we are not raising the retreat rate. Thank you for your help!
For ordained or dharma service rates, contact the retreat coordinator at retreats@white‑conch.org. We will make an effort to accommodate all who wish to attend.
Registration and Payment
Please preregister at www.white-conch.org to reserve your space at the retreat. Space is limited.
Payment can be made online at www.white-conch.org or with a check mailed to White Conch Dharma Center, N2685 Cardinal Ave., Neillsville, WI 54456. Full payment is expected at time of check in.  Any special arrangements need to be made with Gyalmo before December 1st. Contact ExecutiveDirector@white-conch.org